Saturday, June 7th, 2014 at 12 pm
Purchase books
Event status: Sorry you missed it!

In Save the Date (St. Martin's, hardcover, $26.99, on sale 6/3/14), the latest novel from New York Times bestselling author Mary Kay Andrews, a Savannah florist who doesn't believe in love is about to score the wedding of a lifetime.
* $35 ticket includes a $10 book voucher. $53.61 ticket includes a copy of Save the Date.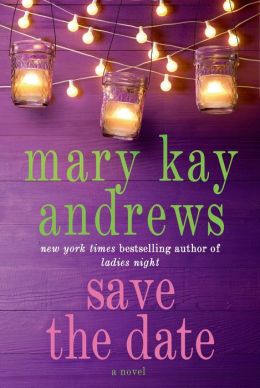 A Savannah florist is about to score the wedding of a lifetime—one that will solidify her career as the go-to-girl for society nuptials. Ironically, Cara Kryzik doesn't believe in love, even though she creates beautiful flower arrangements to celebrate them. But when the bride goes missing and the wedding is in jeopardy, Cara must find the bride and figure out what she believes in.
Maybe love really does exist outside of fairy tales after all.
Told with Mary Kay Andrews' trademark wit and keen eye for detail, mark your calendars for Save the Date!
About the author:
Mary Kay Andrews is The New York Times bestselling author of Ladies' Night, Spring Fever, Summer Rental, The Fixer Upper, Deep Dish, Blue Christmas, Savannah Breeze, Hissy Fit, Little Bitty Lies, and Savannah Blues.
She also wrote ten critically acclaimed mysteries, including the Callahan Garrity mystery series, under her real name, Kathy Hogan Trocheck. Her mysteries have been nominated for the Edgar, Anthony, Agatha and Macavity Awards.
A native of St. Petersburg, Florida, Trocheck earned a B.A. in journalism from the University of Georgia in 1976. She started her professional journalism career in Savannah, Georgia, where she covered the real-life murder trials which were the basis of Midnight in the Garden of Good and Evil. She left journalism after a ten-year stint as a reporter for The Atlanta Journal-Constitution.
She is a frequent lecturer and writing teacher at workshops including Emory University, The University of Georgia's Harriette Austin Writer's Workshop, the Tennessee Mountain Writer's Workshop, and the Antioch Writer's Workshop.
As a lifelong "junker," the author claims to know the location of every promising thrift store, flea market, and junkpile in the southeastern United States, plus many parts of Ohio.
Married to her high school sweetheart, she is the mother of two grown children and a proud grandmother. After a brief hiatus in Raleigh, NC, she and her husband moved back to their old neighborhood in Atlanta, where they live in a restored 1926 Craftsman bungalow. She divides her time between Atlanta and her restored beach cottage on Tybee Island, GA.